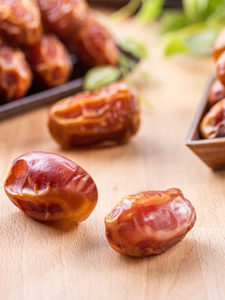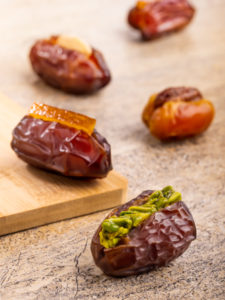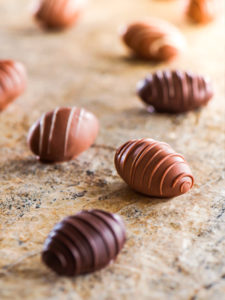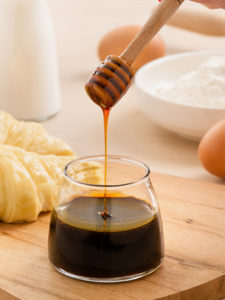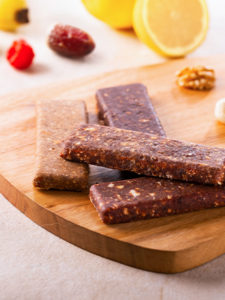 Discover the Jomara range of 100% organic plain dates, perfect for every occasion. Thanks to our commitment to time-honoured, traditional agricultural practices and world-class sustainable farming techniques, our dates are grown to perfection with zero pesticides, additives and harmful chemicals – every bite reflects the very best of nature. Jomara dates are the wholesome treat of choice across the region, and can be enjoyed daily to complement a healthy diet.
There are several plain date varieties to choose from, including the delicious Kholas, sublime Madjool, royal Sokari, irresistible Khidri and distinctive Segai. Learn more about Jomara's organic date varieties here.
Explore Jomara's deluxe selection of gourmet filled dates that are available all year round. Designed to delight, these dates make great gifts for loved ones and special treats for yourself. We choose only premium varieties to be artfully filled with a fine selection of ingredients, sourced specially from suppliers around the world to ensure the highest standards of quality. Try our latest assortment of fresh dates combined with an assortment of fillings, such as roasted pecans, crunchy pistachios and candied orange peels. Filled dates from Jomara present an array of textures and flavours that are always worth savouring.
First to introduce date chocolates to the world, Jomara presents an indulgent treat. This popular range features the finest dates coated in silky smooth Belgian chocolates for a unique combination. Organic plain dates are delicately enrobed in rich chocolate made from sustainably-sourced and single-origin cocoa beans. By championing all-natural ingredients and crisp flavours, our celebrated chocolatiers have crafted an irresistible selection of date chocolates especially for you, exclusively from Jomara.
Entirely organic, Jomara date syrups feature all the goodness of the date fruit in a silky, honey-like texture. Date dhibs – as they are also known across the Middle East – are a special syrup that can be used in a variety of ways. The ever-popular kitchen staple is used as a natural sweetener in baking, as an indulgent topping for desserts, in meat marinades, and even in coffee for a tasty twist to your morning cup. Jomara date syrups are made from fruit nectar that is carefully extracted from selected dates and the result is a nutrient-rich syrup with a sumptuous flavour and lingering aftertaste.
An ideal healthy snack, Jomara date bars are free of preservatives and refined sugars, championing pure ingredients. Dates are renowned for their energy boosting properties, and our date bars harness the fruit's nutritional benefits in tantalising flavour combinations. Try the entire range, which includes chocolatey Coconut and Cocoa, zesty Citrus and Almond, fruity Banana and Walnut, and creamy Raspberry and Cashew – all sweetened using only natural ingredients. Jomara date bars are ideal for when you're on the go, looking for a balanced afternoon treat, or simply need to refuel after a workout.